Since 2015, Festival Inspire is turning Moncton into New Brunswick's mural capital. Each summer, new murals by local and international artists bring joy downtown and turn the city into an open-air gallery. Street-art fans will love this self-guided tour showcasing the best of our 50+ murals. Put on comfortable shoes or get on your bike, and let's go!
This article proposes two art mural itineraries in Moncton's downtown core. Choose one, or do them both back-to-back if you're feeling adventurous!
If you choose to do both itineraries back-to-back:
✳️ Start with the first one, and continue on with the second one.
✳️ Please know that you'll need to make your way back from the end of the second circuit to the original starting point of the first circuit if you've parked there, which represents a 30-minute walk or 10-minute bike ride.
✳️ If you need a break, there are restaurants, coffee shops and micro-breweries along the tour, as suggested in the itineraries below.
Circuit #1: Downtown murals

Start at the Starving Artist Gallery & Café. With no less than 3 murals, this wonderful gift shop is a piece of art. The 2 murals out front were painted by local artists Gabrielle Brown and Chelsea Gauvin, and the giant lizard mural out back is a brand-new masterpiece made by SBuOne in 2022. Admire it from the Riverfront Café before trying to catch the tidal bore in nearby Bore Park.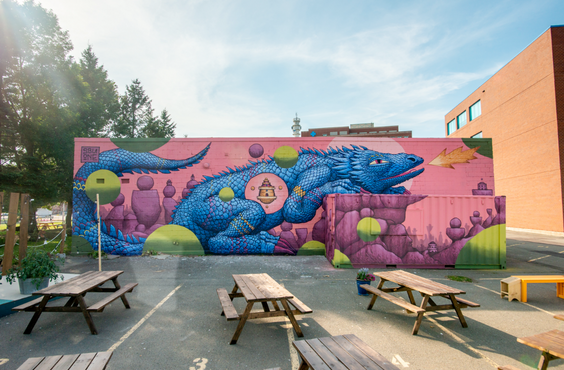 Go for a nice stroll along the Riverfront Trail and stop at the bike coop La Bikery. Its colourful mural shows Tlaloc, the Aztec god of rain. It was painted by Mexican artist Senkoe, mixing pre-Hispanic and dreamy influences. 
Go up Westmorland St. towards the Moncton Market. You can't miss another 2022 mural: a giant train conductor paying homage to Moncton's transportation roots.
Cross the street to discover the fantasy-infused Apple of My Eyes mural by New Zealand artist Aaron Glasson.
Grab some delicacies at the Market, then go at the back of the building. ? Two giant murals frame Robinson St.: The Run by Maye on the delicious Malaysian restaurant Cinta Ria, and Tokyo Candles by Dan Kitchener, a Moncton favorite since 2016.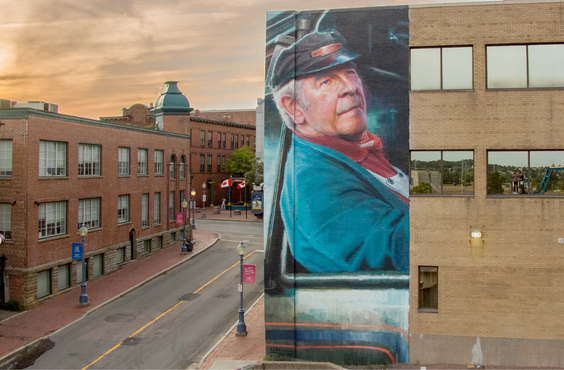 Just off Main Street, go on Lutz St. to check out a gorgeous mythology-inspired mural by WD Wild Drawing. Turn around to see a colorful abstract mural by local artist Jared Betts.
At the back of the Capitol Theatre, you'll see a unique "mural": giant balloons straight out of the Up movie.
At the end of Seymour Crescent, check out a joyful fish by local artist Lysanne Lombard.
After enjoying the shops and patios on Main Street, turn on Orange Lane where you'll see a wonderful chimera by local tattoo artist Patrick McFarlane.
If you need a break, check out the Pump House or Gahan House patios.
Make a right on Queen St. and prepare to be amazed by a brand-new giant mural on the Canvas by Hilton hotel parking lot. It was painted in 2022 by Dutch artist Eelco, a Moncton darling since his first mural here in 2015.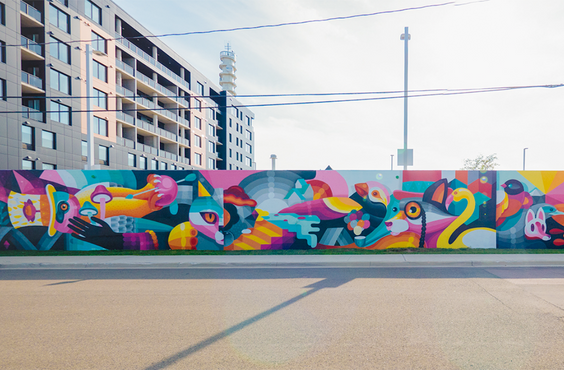 You can go back to your starting point now, just minutes away down Lester St. and Mechanic St.
To check out even more amazing murals, head to nearby St. George St.
Circuit #2: St. George Street murals

St. George Street offers several murals, starting by the meditative portrait The Universe In His Eyes at the corner of Wesley St.
Grab some homemade treats at Halo Donuts or Lost & Found Ice-Cream before carrying on with this tour.
The next mural is at the corner of Archibald St.: a giant blue jay you'll probably see from a couple blocks away.
Across the street, on the side of the post office, another bird mural showcases beautiful pigeons.
Right after Highfield St., a brand-new Fantastic Four mural by local Jeep Jones brings a colorful vision to the wall of comic book shop Comic Hunter.
Turn around to see a surrealist mural by Californian artist Konecki across the street.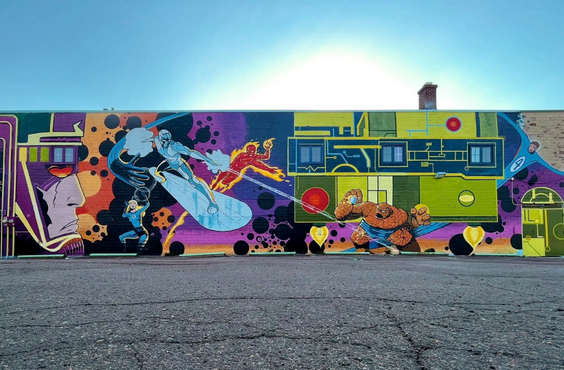 After a little break at the Whynot BU Café, the chocolate factory La Rouère, or the Epoch Chemistry Coffee House, ? it's time to walk up Weldon St. towards the Edith Cavell School. Do you recognize this colorful, distinctive style? It's Eelco again. Moncton fell in love at first sight with this mural. 
Cross pretty Victoria Park towards John St. Two fox murals by Senkoe and Sabrina Sorensic, two Mexican artists, are on the corner of John St. and High St. One is hidden on the side of Adeline Vet (featured photo at the top of the page), the other is at the back of the Tire Shack Brewery. ? This is the end of our street art tour. Before heading back, you deserve a good drink on this microbrewery patio!
Other murals you don't want to miss
 
Just a stone's throw from the Georges-Dumont Hospital, Castle Manor hides another gorgeous mural by Eelco. To check it out, go at the back of the building.
At the corner of Mountain and North, be amazed by a fascinating trompe-l'œil on the Reads bookshop wall.
Check out both brand-new café La Factrie and its mural by Mique Michelle on Albert St.
After visiting the Acadian Museum, check out the giant mural by Wasp Elder at the entrance of the Université de Moncton campus. 
You'll find many more murals throughout Moncton. Discover them by chance while visiting downtown!

Moncton's mural landscape is ever-shifting: while some murals are here to stay, others change every year. Don't wait to do this downtown tour!


New murals in town

Portrait of a bearded dragon
Artist: SBuOne (Montreal)
Location: Creative Works (80 Assomption Blvd)
Train Conductor
Artist: Slim Safont (Spain)
Location: IQ Commercial Building, back wall (814 Main St)
Transformation
Artist: Eelco van den Berg (Netherlands)
Location: Canvas Hotel parking lot behind building (55 Queen St)
Fantastic Four
Artist: Jeep Jones (Moncton)
Location: Comic Hunter (321 St. George St)
Adeline Vet mural
Artist: Sabina Sorensic (Mexico)
Location: Adeline Vet (293 High St)