On September 30, 2023, the National Day for Truth and Reconciliation, the City of Moncton will hold a commemorative ceremony to remember the tragic and painful history and ongoing impacts of residential schools on First Nations communities in Canada.
Everyone is invited to attend.
 
Commemorative Ceremony:

🔶 September 30, 2023
🔶 1 p.m.
🔶 Moncton City Hall Plaza (655 Main Street)
🔶 PROGRAM : During this gathering, author and musician Hubert Francis from Elsipogtog First Nation will share a blessing, traditional teachings and a few traditional songs to honour the children who never returned home, the survivors of residential schools, as well as their families and communities.
Other commemorative initiatives on this day:

Giant Flag: A giant flag with the words 'Every Child Matters' in Mi'kmaq language will be draped on the front of Moncton City Hall. 
---

Illumination of Spaces: The following spaces will be illuminated in orange for National Day of Truth and Reconciliation:
🔶 Moncton City Hall
🔶 Downing Street
🔶 Downtown Place and the Ian Fowler Oval
🔶 Avenir Centre
---

Interpretive Signage: Interpretive signs depicting Mi'kmaq words and their pronunciations and meaning in English and French will be installed along Moncton's Riverfront Trail and at Gérald-LeBlanc Park by the City Hall Plaza. 
This initiative supports the principle included in the Truth and Reconciliation Commission's Report, Call to Action 14, which states that "Aboriginal languages are a fundamental and valued element of Canadian culture and society, and there is an urgency to preserve them".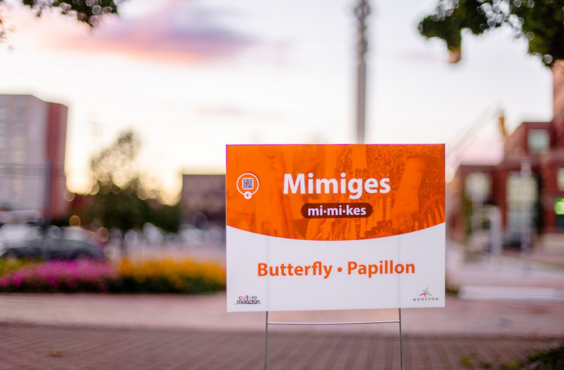 ---

Banners: In recognition of this day, street light pole banners are on display at Moncton's Downtown Place around the Ian Fowler Oval. The concept of these banners was developed in collaboration with Moncton Cultural Board member DJ Joseph and other representatives from Elsipogtog First Nation. The design elements include:
The importance of youth
The double-curve symbol – a petroglyph in the written dialect Gomtjegeoiigaig, shown across the top part of the banner
The Every Child Matters logo in Mi'kmaq, English and French